If you are searching for monument signs or "monument signs near me" in Phoenix or Tempe, Arizona, Davis-Signs & Graphics can help! Davis Signs & Graphics offers monument sign design, fabrication, repair and installation. We can help with anything from a car wash monument signs to a multi-tenant monument signs and more.
The low to the ground nature of Monument signs is an essential client driver for locations with lots of pedestrian traffic as well as slow moving vehicular traffic. Apartments & free standing business are the usual places that capitalize on the placement of a well designed monument. Davis Signs creates monuments that have style & character, that utilize many different materials that suit the clients needs, desires & budget targets.
Every commercial sign built by Davis Signs & Graphics is custom made. Building a custom monument sign for your business will allow you to display the character and personality of your unique brand. Custom monument signs can include things like your brand name, logos, fonts, colors and more. When you're looking for a custom made monument signs in Phoenix or Tempe, Davis Signs & Graphics can design it, fabricate it and install it.
MONUMENT SIGN DESIGN
We can custom design nearly any type of monument sign you can thinking of with your branding and logos.
MONUMENT SIGN FABRICATION
Our team of skilled sign fabricators will fabricate your custom monument sign to your exact liking.
MONUMENT SIGN INSTALLATION
Getting your monument sign professionally installed is the only way to ensure it stands the test of time.
MONUMENT SIGN REPAIR
We also offer monument sign repair to keep your sign lighting and looking the way it should.
The term "monument sign" is generally applied to any freestanding sign that utilizes masonry elements and is low to the ground. Many feature stone, stucco, or brick, but they can also be constructed with metal. Need the "Monumental" look to go along with your decorative surroundings? We specialize in textured finishes such as aluminum, brick, and stone. We can easily create the elegant look you require.
Free Banner With Purchase of Electrical Monument Sign

We are currently offering a free banner with the purchase of every electrical sign.
Use this 3′ x 8′ banner to advertise your business until your sign is ready.
How Much Do Monument Signs Cost in Phoenix?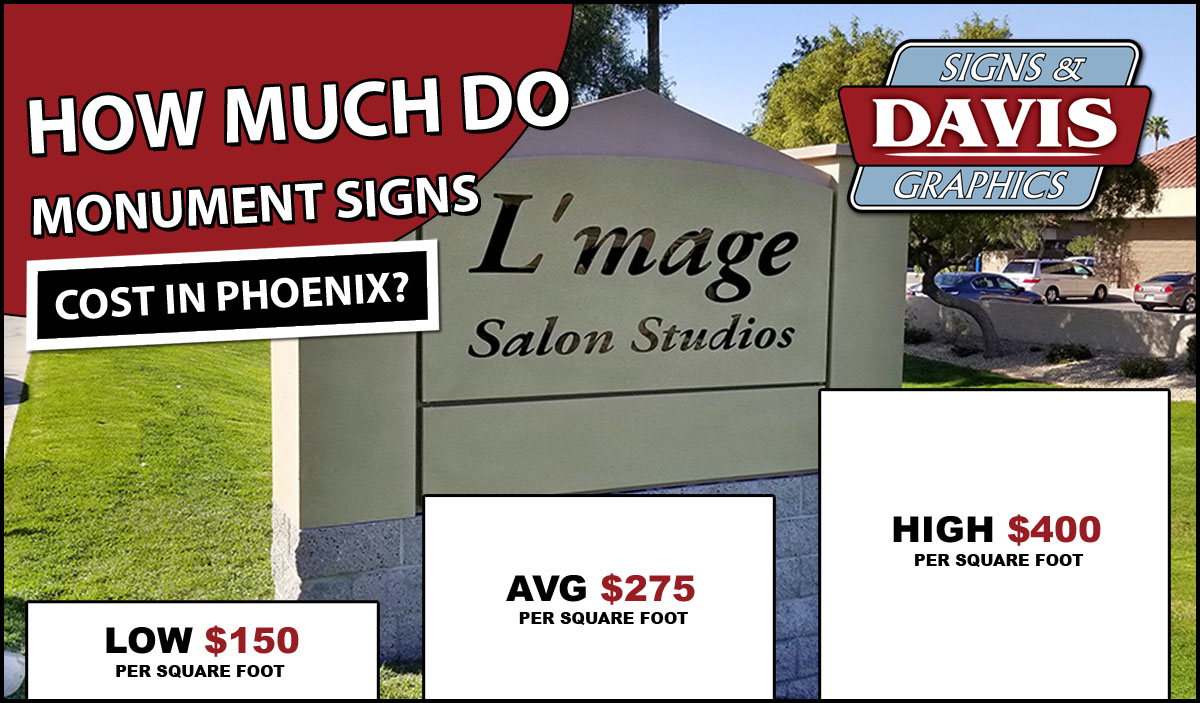 On average, monument signs cost about $275 per sq ft in Phoenix, Mesa, Tempe and surrounding areas, with average prices ranging from $150 to $400 per square foot.
"Hands down to Davis sign! They made my business sign and it turned out amazing! The process was so easy because they took care of everything! Very professional, fast, reliable and costumer service is amazing!" – Graciela
Some Of Our Happy Clients Include The Following