Monument Signs Costs 2021
On average, monument signs cost about $275 per sq ft with average prices ranging from $150 to $400 per square foot for the US 2021. According to ArizonaCommercialSigns, "The average monument sign cost is about $275 per sq ft. Costs range from $150 to $400 per square foot."
Prices do vary depending on the complexity of the sign.
Every sign manufacturer will follow a few rules when giving quotes and it is important to remember these when obtaining quotes and looking at the different prices you may be quoted.
Signs will be less expensive the less complex they are because of the labor costs involved and the longevity, relating to the quality of the materials used
The square foot cost increases as the complexity of the sign increases
The cost of the sign will be dependent on the size of the sign as well as its complexity
To define complexity a good example would be when you changed from a simple sign that is fixed to one with letters displayed via an electronic system where the words can be changed. Another example would be when the flat-faced letters are changed to give a 3D style appearance. Although complexity means more expense, it can make your sign stand out in an impressive manner and improve the appearance of your brand. Let's look at signs in different price ranges to learn more.
$5,000 Monument Signs
A 5×7 monument sign using acrylic panels, aluminum of an industrial grade s well as vinyl lettering and graphics that are printed digitally. This sign will last many years before maintenance is required. This kind of sign is also double-sided and can be seen from both directions by people wanting to look at your business. You can also reduce costs further by utilizing secondary lighting that is mounted in the ground. The sign can be further enhanced with customized options such as centralized illumination, additional colors, masonry-style platform or cosmetic effects.
$10,000 Monument Signs
A 6×8 foot pylon sign that is double-sided will be taller and larger so support columns and footings are an addition so the sign can handle the added wind-load demands. Some signs offer face frames on hinges to make it easy to maintain as well as vinyl printing in color that has a backing of dense Lexan at 3/16ths of an inch. They have the advantage of being easy to change and the lower half of the sign can have 2-3 tracks for copy changeable letters measuring 6 inches. An added bonus is that LED lighting can be utilized to keep maintenance lights under control and upgrades can be done via an electronic message system – the wording of which can be changed for different marketing campaigns.
$28,000 Monument Signs
A centrally-lit sign, double-sided and a 10×7 foot tall can be made from aluminum but will have many customizable features. It may include options for 3D style lettering and utilize centrally based LED lighting. A stone effect style base can be covered over with vinyl that is digitally printed lending a very luxurious look as opposed to using general masonry. Other options in this price range will likely include an electronic messaging system measuring 3×7 foot in full-color on both sides of the sign. You can expect this to include an in-built graphics driver, wireless software to change the text of the message, and may also offer on-site training as well as internet software training. The sign can be of higher definition offering more pixel resolution for greater sign clarity -even looking as good as video at 60 frames per second.
Monument Sign Cost Per Sq Ft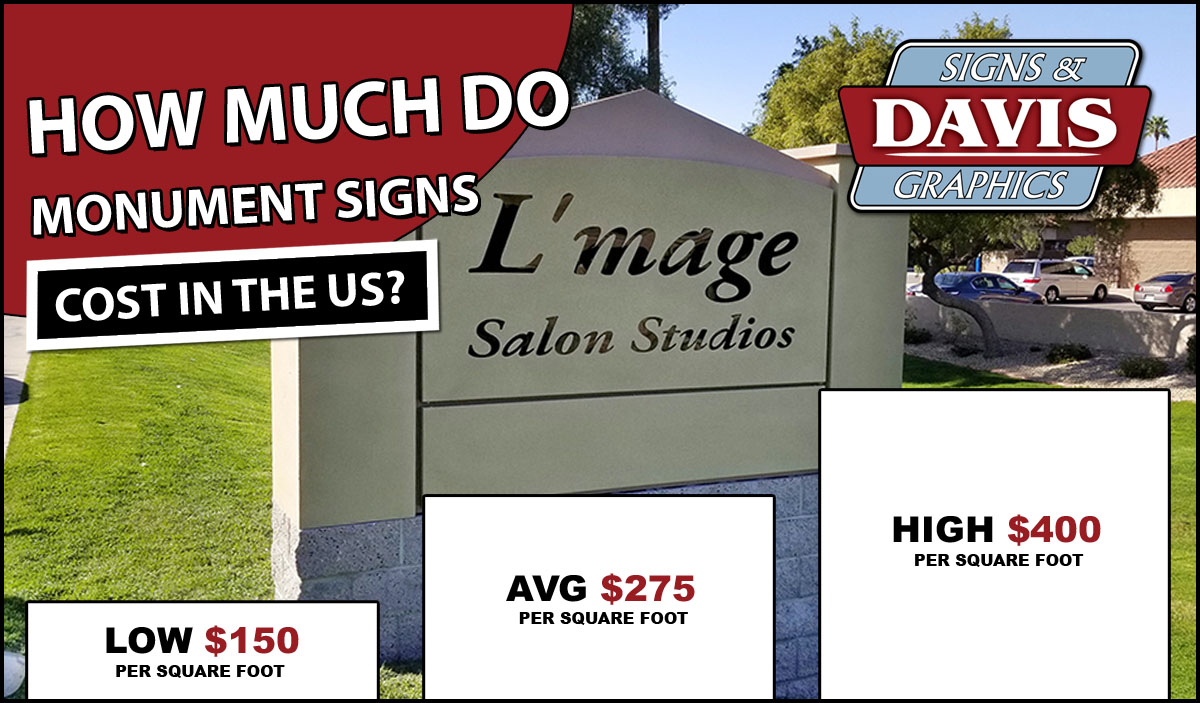 On average, monument signs cost about $275 per sq ft with average prices ranging from $150 to $400 per square foot for the US 2021 according to SignsByCrannie.
Average Cost of a Monument Sign
On average monument signs cost about $10,750 with average prices ranging from $5,500 to $16,000 according to SignsManufacturing. A double-face Monument sign with illumination and 10ft x 12ft cabinet, including installation: $16,000. A double-faced illuminated Monument sign with a 5ft x 10ft cabinet, including installation: $7,500. A double-faced illuminated Monument sign with a 4ft x 8ft cabinet, including installation: $5,500.
A monument sign is both a double and single-sided sign that is installed at various heights to follow code and attract maximum attention. They are often placed near traffic paths and help identify your business within a building, two or more similar office buildings, or an office complex.
According to PlumbSigns, "A monument sign can be defined as a ground sign generally having a low profile with little or no open space between the ground and the sign and having a structure constructed of masonry, wood, or materials similar in appearance."
See Also,
Monument Sign Quotes in Phoenix & Tempe
Davis Signs & Graphics is based out of Tempe but can provide free estimates for customers all over the Phoenix East valley. Get a free monument sign estimate in Phoenix or Tempe by giving Davis Signs & Graphics a call today at (480) 945 0196. We also install other types of outdoor signage including: Monument Signs, Neon Signs, Building Signs, Building Wraps, Illuminated Signs, Pylon Signs and Promotional Signs.