When talking about suitable signage to grab the attention of motorists for your business, the graphic artists at Davis Signs & Graphics frequently recommend the installation of a pylon sign or monument sign for Phoenix business owners. Each signage solution advertises your company's presence and brand through the display of your corporate colors and logo and successfully catch the eye of passing drivers. Having said that, many of our clients feel that they should replace their monument sign when a neighboring business gets a pylon sign installed. Should your business?
What's the Difference Between a Monument Sign and a Pylon Sign?
One word: height. The traditional monument sign is typically no taller than about 5 feet. It shows your message at eye level and blends beautifully with your business landscaping. A pylon sign is much taller and grabs the eye of individuals that are still a bit away. Actually, most pylon signs are a lot taller than the buildings that house their businesses that they're advertising.
Won't This Make Pylon Signs the Perfect Sign?
It certainly doesn't. Think about a neighborhood with mixed zoning patterns. Residential homes and/or apartment buildings are mixed in with banks, storefronts, and comparable businesses. Having a super tall pylon sign installed in this type of setting will make the company stand out – and not in a good way. It just doesn't fit the personality of the area.
When Should I Decide on a Pylon Sign?
When your business is located in industrial areas where the distance between storage facilities and manufacturing plants encompassing city blocks, it makes sense to install a pylon sign and grabs the attention of drivers in search of your business to your location. A pylon sign is also a great idea if your business is one of several that are located along a highway, freeway or four-lane road. Vehicles on these types of roads travel faster and catching the eye of their drivers ahead of time is to your benefit.
Don't forget that you don't have to decide on the tallest pylon sign we manufacture. Shopping mall management companies choose pylon signs to showcase the names of the stores conducting business at their outlets, but they do it with signage that is of a reasonable height and, as a result, fits the personality of the area. A lot of business clients that order pylon signs will choose for versions that light up to enhance the visibility of the message they wish to convey.
How Do I Know if a Monument Sign is Right for my Business?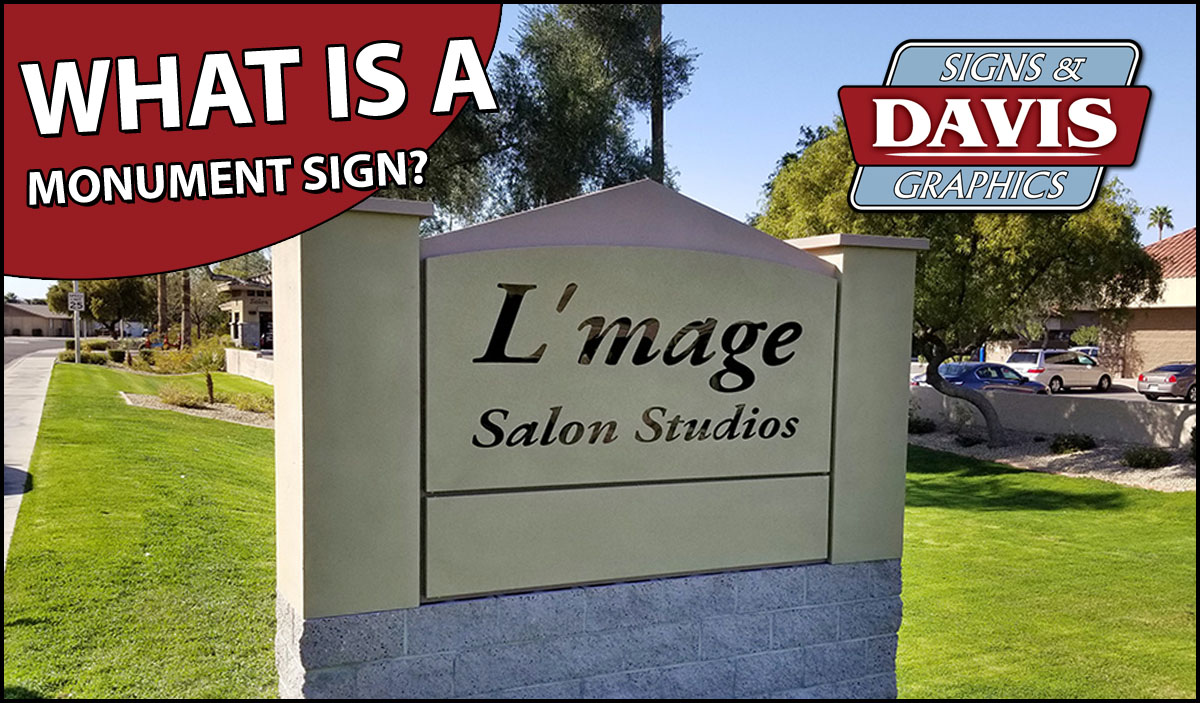 If you're located along a two-lane road, a four-lane road with lower speed limits or within a more residential area, a monument sign is a great option. Additionally, don't forget that you have options regarding the showing of your company's information, which can increase the visibility of your sign. For instance, installing a digital reader board gives you the opportunity to change your message and catch the eye of drivers in this regard. Channel letters and lit box cabinets also work great.
Discussing Monument Signs and Pylon Signs in Phoenix with a Professional
Get in touch with our graphic artists for more information on our signage solutions. At Davis Signs & Graphics we welcome the opportunity to come to your location and carry out a site survey. As we do this, we also examine the signage used by the closest competitors. During our meeting, we can provide you with recommendations regarding the perfect height for the signage advertising your company.
How Much Does a Monument Sign vs a Pylon Sign Cost?
On average, monument signs cost about $275 per sq ft with average prices ranging from $150 to $400 per square foot for the US 2020. According to ArizonaCommercialSigns, "The average monument sign cost is about $275 per sq ft. Costs range from $150 to $400 per square foot" vs a pylon signs cost which about $104,000 with average prices ranging from $8,000 and $200,000 in the US for 2020, according to ArizonaCommercialSigns. The cost will widely depend on the height of the sign, its location, and if it's going to have electronics or LEDs.
Source:
"What's the Difference Between Monument Signs and Pylon Signs?" Blinksigns Blog, www.blinksigns.com/blog/archive/what-s-the-difference-between-monument-signs-and-pylon-signs/.
Monument Sign & Pylon Sign Quotes in Phoenix & Tempe
Davis Signs & Graphics is based out of Tempe but can provide free estimates for customers all over the Phoenix East valley. Get a free commercial sign quote in Phoenix or Tempe by giving Davis Signs & Graphics a call today at (480) 945 0196. We also install other types of outdoor signage including Monument Signs, Neon Signs, Building Signs, Building Wraps, Illuminated Signs, Pylon Signs, and Promotional Signs.